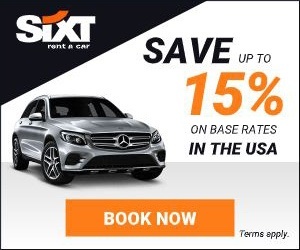 Latest news

Replies
Views

Last post
2 Replies
415 Views
Last postby Airport

View the latest post


Wed Jun 14, 2023 2:59 am

3 Replies
5327 Views
Last postby Airbrusher

View the latest post


Mon Jun 12, 2023 1:02 am

4 Replies
948 Views
Last postby Lawrence99

View the latest post


Mon May 29, 2023 1:33 am

39 Replies
7211 Views
Last postby Racer07

View the latest post


Sat May 27, 2023 1:58 am

28 Replies
10265 Views
Last postby Pirelli

View the latest post


Wed May 24, 2023 4:29 am

3 Replies
1495 Views
Last postby Airbrusher

View the latest post


Sat May 20, 2023 3:57 am

200 Replies
56510 Views
Last postby YesCar

View the latest post


Sun Apr 30, 2023 2:29 am

159 Replies
27091 Views
Last postby Roadtramp

View the latest post


Sat Apr 29, 2023 5:40 am

3 Replies
1013 Views
Last postby youngrenter

View the latest post


Sat Apr 29, 2023 2:28 am

5 Replies
1503 Views
Last postby YMCA300

View the latest post


Fri Apr 14, 2023 4:53 am
Welcome to the Rentalcar-Talk.com
Rentalcar-talk.com is the meeting point for all rental car fans, interested parties, people seeking advice, newcomers and professionals on all questions relating to rental cars. The forum for rental cars offers you all the news, information, discussions, experiences, cheap offers, questions and answers in the field of rental cars. Register in the forum for rental car simply, uncomplicatedly and free of charge. Ask questions, get answers, discuss with hundreds of members and learn all about cheap rental car deals, experiences and news. We are always up to date with the latest news in the field of rental cars and let you know. And this is free of charge and without obligation for you. As a forum for rental car, the members and we, the editorial staff, will be happy to assist you with all experiences, opinions, discussion contributions, news, tips and tricks, recommendations and proposed solutions to questions and problems.
Questions are answered quickly and comprehensively by the experience and know-how of the members.
Whether you have standard or very unusual questions about rental cars or car hire, all members of this rental car forum will help you quickly with their experience. Do not be afraid to ask your questions about offers, technology, rental contracts, insurance, holiday rentals or business rentals. Also topics relating to the rental of cars both at home and abroad can be addressed. Report on your experiences of past rentals, offers or planned rentals. What went well, what went badly, both is interesting for the other members in this for rental car fans. One can always learn and profit from the valuable experiences of others. And you get to meet interesting people. Ask and report about everything, from the search for a suitable and cheap rental car, the reservation, journey, rental car return up to the billing. Of course, the subject of hire trucks and hire vans is not neglected either. We have created a separate category for these types of rentals. Just have a look, report or ask questions. Of course there are also tips and tricks for all registered members of the rentalcar-talk. Your pictures are also welcome. You can post anything that is of interest and fun. In contrast to other forums in the rental car sector, we don't just take care of a few providers from the rental car industry. We talk and discuss about all suppliers, worldwide, large or small. Take advantage of this diversity!
Simply register and become part of the huge car rental community and join the discussion.
In total there are 21 users online :: 0 registered, 0 hidden and 21 guests (based on users active over the past 5 minutes)
Most users ever online was 205 on Tue Dec 05, 2023 2:17 pm

Registered users: No registered users
Legend: Administrators, Global moderators
Menu
Clock
Search
Top Posters
Statistics
Totals

Total posts

5684

Total topics

338

Total Attachments:

1362

---

Total members

1246

Our newest member

Pearl5